Flyers vs. Penguins series reset: NHL playoffs schedule, scores, results, TV channels, stream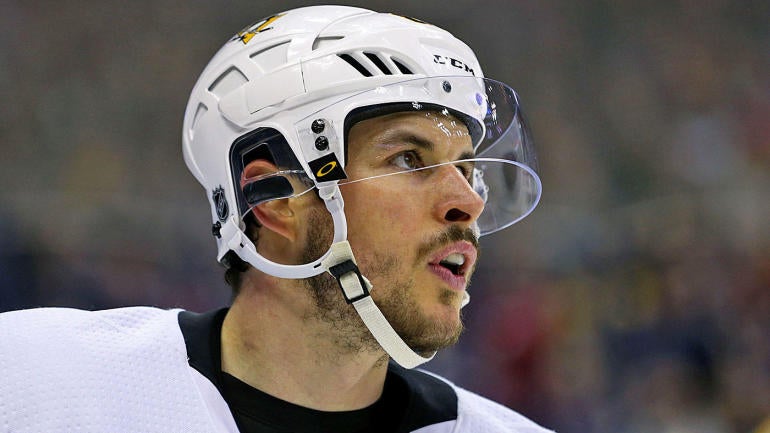 So what side should you back? And where does the value lie? Visit SportsLine to get NHL odds and picks for every Stanley Cup Playoff game, all from the advanced computer model on a red-hot 21-8 NHL run.
The Battle of Pennsylvania has been an unpredictable parade of blowouts thus far. After going back-and-forth for the first three games, the Penguins now have won two straight and hold a commanding 3-1 series lead over the Flyers as the series heads back to Pittsburgh for Game 5 on Friday night. Will the Flyers have Sean Couturier, who was injured in practice this week, back in the lineup for that matchup? Will it even matter?
Here, we've got the full TV schedule for the series and we break down every angle of the Metropolitan Division showdown, as well as offer our predictions:
How to watch
TV: NBCSN, NBC CBC, TVA Sports, NHL Network, SN Stream: fuboTV (Try for free)Follow: CBS Sports App
(All times ET)
* - If necessary
Game 1, Wednesday, April 11: Penguins 7, Flyers 0Game 2, Friday, April 13: Flyers 5, Penguins 1Game 3, Sunday, April 15: Penguins 5, Flyers 1Game 4, Wednesday, April 18: Penguins 5, Flyers 0Game 5, Friday, April 20: Flyers at Penguins, 7 p.m. -- NBCSN, CBC, TVA Sports *Game 6, Sunday, April 22: Penguins at Flyers, TBD*Game 7, Tuesday, April 24: Flyers at Penguins, TBD NHL Playoffs odds
Here's a look at each team's projected odds to advance via SportsLine, not to mention their odds to win not only their conference, but also the Stanley Cup.
Matchup breakdown OFFENSE
This is a little closer than you'd think, because Claude Giroux is a legitimate Hart Trophy candidate and Sean Couturier is working on a career year. But this is also the Penguins we're talking about. Even if their numbers weren't impressive (and they are), they still have such a blatant advantage in experience. Behind Sidney Crosby and Evgeni Malkin, Pittsburgh has depth, too, deploying guys like Phil Kessel and Derrick Brassard on third-line minutes. Either way, the offensive fireworks shouldn't be lacking, as there are eight players with at least 24 goals between the two teams.
Edge: Penguins
DEFENSE
This is where Philly has the best chance to swing the series. Against just a so-so Pittsburgh blue line that's featured some notable Kris Letang slip-ups and allowed more goals than any other team in the playoffs, the Flyers should have plenty of chances to put pressure on Matt Murray. It's not as if the Flyers are invincible on this end, especially considering the question marks in the net and their own inconsistencies, but if there's an area on the Pens that can be exploited, it's the "D."
Edge: Flyers
GOALTENDING
By Penguins goalie standards, Murray hasn't exactly lived up to the hype in his first season as the full-time net-minder post-Marc-Andre Fleury. Pittsburgh's numbers are actually worse than Philadelphia's, too. And yet, while the Flyers have enough talent to overwhelm Murray for a game or two, it seems like a stretch to bank on the unpredictable duo of Petr Mrazek and Brian Elliott over the proven postseason prowess of the Pens until further notice.
Edge: Penguins
SPECIAL TEAMS
This is the most obvious mismatch of the bunch, and it bodes extremely well for the defending champs. Whereas Pittsburgh boasts the NHL's top power-play unit, the Flyers have been near the bottom of the league when it comes to penalty killing. Philly was also bottled up on its own power plays (2-for-16) during the two sides' regular-season meetings, and in a series that figures to bring out everyone's physicality, it's hard not to see them steering completely clear of the penalty box.
Edge: Penguins
PREDICTIONS Penguins-Flyers
Benjamin: For the sake of this rivalry, my heart wants to pick the Flyers. But my brain is screaming otherwise. This should be a slugfest, and Philly has juice, but outing such a speedy, savvy team like the Pens so early seems like too tall a task for a fringe contender. Penguins in 6.
Blackburn: I have some lingering concerns about Matt Murray's status, but it's not enough for me to doubt the Penguins in this series. They've got too much firepower up front and their special teams unit is excellent. Penguins in 5.
Skiver: The trendy thing to do here feels like going with the sleeper upset, but the Penguins just have too many scorers against a questionable blue line for the Flyers. Even though I think we might see some games with cumulative goals towards double digits here thanks to Philly's surprising offense, it's hard to imagine the Penguins not coming out on top. Penguins in 5.
Read More