2018 Fantasy Baseball Draft Prep: Twins trade for Jake Odorizzi and add another borderline Fantasy asset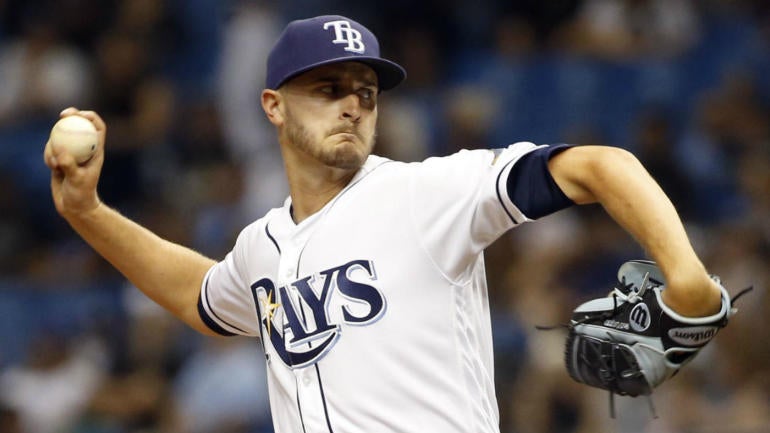 The main headline with the Minnesota Twins is still all of the potential Fantasy studs they have they may not have yet reached their peak. The sneakier understory is that they have a lot of borderline Fantasy assets that could either be solid starters or waiver wire fodder. After acquiring Jake Odorizzi, they have one more.
Odorizzi is just shy of his 28th birthday and has a serviceable 3.83 career ERA. He's posted exactly 8.0 K/9 each of the past three seasons and has struggled with the long ball at times. Odorizzi is a solid starting pitcher, which is something the Twins were desperate for.
The concern, is how he'll fare ourstide of The Trop, because his career road ERA is 4.35. He doesn't strike out enough batters (or consistently throw enough innings) to be a viable Fantasy asset with an ERA north of four. And while his new ballpark isn't an extreme hitters park, it does favor hitters slightly and is far more hitter-friendly that where Odorizzi is used to pitching his home games.
This is probably a move that Twins fans should feel more excited about than Fantasy owners. About the only real positive for Odorizzi is that he'll have a much higher win potential with the Twins.
Twins in my Top 300Players in Scott's Top 100 Prospects
*Prospect notes from Scott White
Things to Know Just how good could Berrios be this year? As I wrote in my breakouts column, I expect 200 innings, 15 wins and a mid-3s ERA. If he takes another step in the strikeout department, he could absolutely be a top-10 starting pitcher.The Twins bullpen should be a good source of saves, but I don't feel confident in which reliever will have the most. We've been betting against Fernando Rodney for a long time, but he's usually just good enough to keep his job. Addison Reed is a good late-round pick in AL-only Roto because I expect him to get a run at closer some time this year.Jorge Polanco didn't make my breakout column like Berrios and Buxton, but he'll probably be undervalued. He stole 13 bases In just 133 games last year, and with his low K rate should have a much better average than last year's .256.Ervin Santana is a big faller since I first wrote this. He was due for some monster regression as is, and now he may not be ready until mid-May. I'm not completely sold that Santana needs to be drafted in either format. Lineup & Rotation
Read More