2018 Fantasy Baseball Draft Prep: Ranking the Blue Jays' Fantasy assets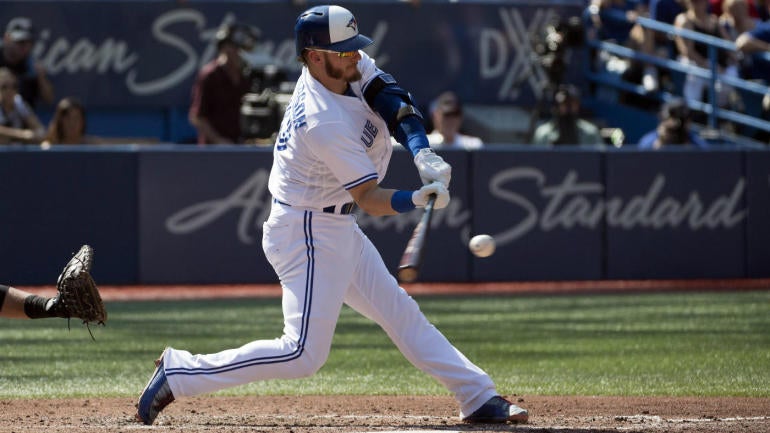 The Blue Jays are in a strange spot. Long-time franchise anchors Jose Bautista and Edwin Encarnacion have departed over the past two offseasons, and Josh Donaldson doesn't seem long for the hot corner in Toronto, either. However, this isn't a team in the midst of a youth movement at the major-league level, which leaves the Jays somewhat stuck in limbo.
They won't be pushovers in 2018, but they also don't really have much of an apparent ceiling. Maybe they slip into the playoffs on the back of one more MVP-level season by Josh Donaldson and a bounceback season by Aaron Sanchez, but the more likely outcome is they're fighting for third place in the AL East, and Donaldson is gone by August.
The Blue Jays are trying to bridge the gap between what they hope will be two fruitful eras in the franchise's history: The one built around Encarnacion, Donaldson and Bautista, and the one they hope is coming, built around a pair of top prospects with huge pedigree. That leaves them stuck in the middle for the next few seasons, and Fantasy owners won't have many reasons to be excited about this top-heavy roster in the meantime.
Ranking the Blue Jays' Fantasy Assets Players in Scott's Top 100 Prospects Blue Jays Prospects Things to Know A calf injury kept Josh Donaldson out for much of the first two months of the season, and seemed to sap some of his prodigious hitting abilities, as his OPS fell to .783 on July 25. He would spent three more days the rest of the season below .800, hitting .303/.407/.697 with 24 homers in his last 55 games, making up for most of the lost time. Donaldson isn't much of a sure thing as he seemed to be a year ago, but the upside here is just as high as it's ever been. It was nice to get a reminder of that.Marcus Stroman doesn't get the strikeout numbers we usually want to see from out starting pitchers, but he has put up consecutive 200-innings seasons, and rode his groundball-heavy ways to a top-10 finish in Cy Young voting last season. He'll allow more baserunners than you would like, and probably can't sustain an ERA in the low-3.00's every season, but Stroman's skill set isn't that dissimilar from that of Dallas Keuchel, who tends to be drafted five or six rounds ahead of Stroman. He's a nice bargain there. This team has four players inside the aggregate top-150, but I don't want any of Justin Smoak at this price. He plays the easiest position to fill, and after a hot start, hit just .241 with 15 homers and 34 RBI in 71 games after the All-Star break. After an apparent breakout, he kind of turned back into Justin Smoak. Give me Randal Grichuk at a fraction of Smoak's price. Grichuk has had trouble with consistency in St. Louis, and hasn't been able to live up to his breakout 2015 season. However, he's averaged 26 homers per 162 games for his career, and probably has upside to grow in an everyday role. Grichuk has legitimate 35-homer upside with his pull-heavy approach and career 39.7 percent hard-hit rate, and I wouldn't be surprised if he betters his career .249 average by 20 points in that park. Aaron Sanchez showed us how good he can be in 2016 when he upped his strikeout rate and rode a Stroman/Keuchel-esque groundball rate to a 3.00 ERA over 192 innings. Blister issues largely ruined his 2017, but Sanchez has the stuff to be a top-30 pitcher. Full disclosure: I'd never heard of Ryan Borucki before this exercise. However, the lefty is a candidate for the fifth rotation spot, after storming through High-A and Double-A, finishing the minor-league season with a 2.93 ERA, 9.4 K/9, 2.2 BB/9 and only seven homers allowed in 150 1/3 innings. In doing some research on him, he's got a bit of Alex Wood in him, in that he hides the ball well from the left side of the mound, while working mostly in the low-90's. Those type of pitchers fizzle out when they reach the majors as often as they hit, but they can also be underrated for prospect purposes. I won't draft him in mixed leagues, but I'm keeping an eye on Borucki in the spring as a deep sleeper, though the signing of Jaime Garcia might push him back to Triple-A to open the season. Lineup & Rotation
Read More